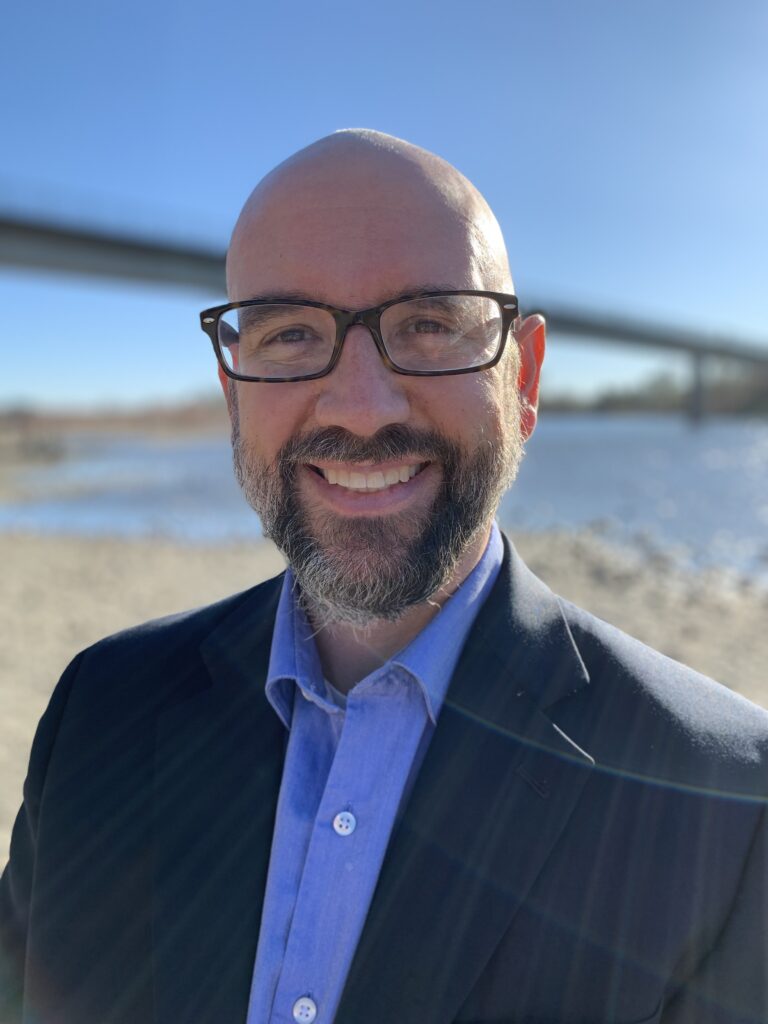 Get to Know Mr. Thronson
Eric J. Thronson is a leading public policy veteran with particular expertise in California governmental and legislative processes. As principal at his own firm, EJ Thronson Consulting, based in Sacramento, California, Eric provides personalized policy advice and dedicated legislative and regulatory advocacy. He specializes in transportation, housing, and infrastructure issues while assisting his clients in navigating complicated legislative and regulatory frameworks at the local, regional, state, and federal levels.
Mr. Thronson is known for his keen insight and mastery of the intricacies of policy with a unique ability to translate the inherent complexities into everyday language that's easily understood by both novices and industry experts alike. His sound understanding of issues, expectations, and potential outcomes of policy — together with his passion and charisma — have resulted in him being the guiding force behind many key pieces of state legislation over the past decade.
His most notable legislative work, expounded on in more depth here, includes:
‌The Road Repair and Accountability Act of 2017
Creation of California's Road Charge Technical Advisory Committee
Caltrans accountability efforts
‌Caltrans budget process improvements
Tolled facility guidelines
Background
Mr. Thronson was born in rural eastern Washington where he learned the values of hard work, competitiveness, and persistence during the many summers he worked on farming and logging crews with his father and older brothers. He would go on to apply the same qualities to earn an athletic scholarship at Tulane University, where he set two school records.
At Tulane, Mr. Thronson became the captain of the only collegiate team in Louisiana history to qualify for the NCAA Division I Cross Country National Championships. He has used those experiences to guide him through the cause of public service throughout his professional career.
After graduation, Mr. Thronson worked in various non-profits in Austin, Texas, before earning his Master of Public Affairs degree from the LBJ School of Public Affairs at the University of Texas. He was soon hired by the California Legislative Analyst's Office, and his career from then on has been wholly focused on California governmental and legislative processes.
Early Career
During his tenure at the California Legislative Analyst's Office as a fiscal policy analyst focused on transportation, housing, and high-speed rail, Mr. Thronson reviewed transportation and housing budget and policy issues. Besides supporting department and legislative staff in the adoption and implementation of the office's legislative options, he developed options and key recommendations for improving state programs. He had the responsibility of answering legislative requests with accurate, informed responses involving his areas of expertise while testifying before legislative committees on both fiscal and policy issues.
When the 2008 economic recession reached its peak, Mr. Thronson developed recommendations that addressed the General Fund deficit while minimizing the impact on the state of California's many transportation programs. Despite the challenges of balancing the urgent needs of General Fund-supported programs with the state transportation system's long-term challenges, Mr. Thronson was able to successfully protect what he could through some of the toughest budget times the state had ever faced.
Committee Work at the California State Senate
In 2011, Eric Thronson moved on to a position as a principal committee consultant for the Transportation and Housing Committee at the California State Senate. During his work as a policy committee consultant in the Senate, he spent much of his time analyzing legislative proposals and bills while interacting with the departments involved in administering these proposals.
His primary responsibilities included forming and developing legislative direction for state-wide transportation policy, fairly representing any potential impacts, as well as working closely with advocates both for and against the bills to address and allay concerns. All of this was driven by his underlying passion for achieving what was in the state's best interest as well as building strong, long-term relationships to negotiate for what were the most achievable policy outcomes.
Deputy Directorship at the California Transportation Commission
Mr. Thronson's work next took him to the position of Deputy Director for Legislation and Finance at the California Transportation Commission (CTC). At the CTC, he helped direct the growth of the organization to enable it to handle new responsibilities while managing the difficult budget process from the administrative side of state government.
Eric Thronson drove CTC budget proposals through administrative and legislative processes, identified and analyzed transportation-related legislation, and promoted CTC's legislative recommendations. He was also responsible for managing the CTC's relationship with the Legislature, pursuing legislation that furthered the CTC's goals. In addition, he developed and oversaw its program to review and approve tolled transportation facilities throughout the state.
Chief Consultancy at the California State Assembly
After his tenure at the CTC, Mr. Thronson became the Chief Consultant to the Transportation Committee of the California State Assembly. As Chief Consultant, he directed and coordinated the assembly's agenda for all aspects of transportation policy while developing relationships with key departments, stakeholders, and partners, steering the Assembly's transportation direction.
In this role, Eric Thronson coordinated hearings on the new legislation and the oversight of statewide transportation issues. He also worked with the committee chairman to pursue his priorities and manage his involvement in statewide policy development. While doing all of this, he managed and mentored committee staff and consultants through the process of policy analysis.
Founding of EJ Thronson Consulting
In January 2021, Mr. Thronson opened his own consulting firm, EJ Thronson Consulting, pulling together years of formidable legislative experience to guide and assist clients in navigating the complexities of California governmental policy. Mr. Thronson's expert know-how, keen language skills, and clarity of thought and presentation — together with an ability to forge successful collaborations — make him uniquely poised to offer services that his clients would be hard-pressed to find elsewhere.
As part of his current role, Mr. Thronson develops effective policy strategies and solutions for clients related to all aspects of transportation, housing, and infrastructure policy. He also communicates legislative policy positions and other correspondence from a 360-degree perspective with clarity and tact.
Mr. Thronson currently lives in midtown Sacramento with his wife Tara and their two children. Aside from his consulting work and dedicated family life, he is a USATF-certified track coach and co-leads a local youth racing team called the Delta Hawks.